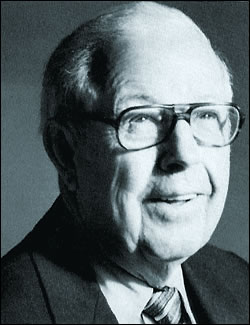 The Polk Progress was a Nebraska treasure that ceased publication in late 1989 after 82 years as a weekly newspaper. From 1955 until its last issue, the editor and publisher was the late Norris Alfred. In its last few months, the Progress had 900 subscribers in 45 states. Alfred was a remarkable Nebraskan with an uncanny eye for connecting the present with the future.
Prairie Fire
has collaborated with the Alfred family, the University of Nebraska School of Journalism and the Nebraska State Historical Society to locate and archive many of Norris's writings. We are capitalizing on our good fortune to present many of the Norris Alfred writings to our readership. We believe that his observations are as fresh and relevant to today's world as they were when originally written.
By Vincent Dowling
Norris Alfred no longer polking, With curious Polaroid and pen About Nebraska. No longer measuring The Progress of the snails Across the masthead of his Babcock Printing Press In Polk, Nebraska. Recording his Swedish philosopher, as she folds And mails his quiet laughter, Sanity, and Barbs across Nebraska. Counting birds on fences, wires and trees, With joy and hope and care for all the world And Polk, Nebraska. Reincarnating and creating Polk cats and dogs, Plainsmen and wives, vanished farmers and their lives In flat Nebraska. He knew he had to die. Invented no escape. Gave to the future his love for all our Earth, In particular, Polk, Nebraska.