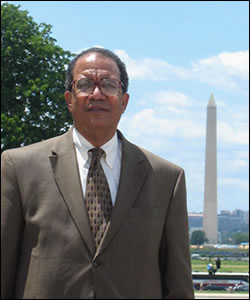 "Sonny's Corner" is a regular column in Prairie Fire, featuring commentary on civil rights and justice issues. Our friend and Omaha colleague, Joseph P. "Sonny" Foster, died suddenly at age 54 in the autumn of 2006. He left an uncompleted agenda, as did many of our civil rights and justice mentors and heroes. We shall attempt to move forward on that unfinished agenda through this column.
We are not innocent
By Ron Hull
When Governor Dave Heineman appointed me to the Nebraska Hall of Fame Commission, I was truly pleased. Initiation into Nebraska history began in 1955 with my first full-time job as a producer/director at KUON-TV, the fledgling, five-staff-member, "educational" television station at the University of Nebraska. The first series I produced was "Yesterday in Nebraska," and it was through this weekly television offering I was given the opportunity to work with some of our state's most accomplished citizens: James C. Olson, director of the Historical Society; C. Bertrand Schultze of the University's "Elephant Hall" fame; writer Mari Sandoz; Poet Laureate John G. Neihardt; and myriad scholars and others who helped shape the history of this state. Telling people's stories; exploring who they were, where they came from, why they left their home territory and what happened to them has been a major part my professional life. When I accepted the position of director of the Program Fund at the Corporation for Public Broadcasting in Washington, D.C., I knew that the television program schedules of the nation's public TV stations lacked an important genre: history. We needed a history series on public television, and with support from many quarters the Program Fund initiated "The American Experience," one of the hallmark series of the PBS schedule today. Last fall when we Hall of Fame Commission members began our deliberations, I went into the process favoring Baseball Hall of Fame member Grover Cleveland Alexander. From the beginning of our statehood, the baseball diamond and the sport were basic to every village and town in Nebraska, and they remain symbols of fair play, local pride, competition, health and sportsmanship - important values to Americans. Grover Cleveland Alexander was a worthy representative of these qualities of American life. But, as our hearings took place across the state and our discussions were informed by many people, young and old, testifying in favor of various candidates, I was drawn to consider elements even more basic to our democratic society; among these, our belief that all men are created equal and are entitled to certain inalienable rights. All men. Frank Partsch, respected former editorial page editor of the
Omaha World-Herald
, provided me with biographical information and perspectives of a number of the Hall of Fame Nominees. This statement of his - "Not everyone sees our history from the same perspective. It is not merely the majority's history. It is everyone's history"—struck me as a powerful truth. I have long believed that racism in America continues to diminish us and separates us from the promise and potential we could achieve. Eminent theologian James Cone, of Union Theological Seminary in New York City, said recently on Bill Moyers' program, "America likes to think it is innocent, likes to think it's an exception." We are not innocent. We are guilty. Racism is indigenous to the fabric of our national history and culture, and we have betrayed ourselves by not living up to our own Constitution and other long-cherished values. As young people, white and black, from the Job Corps Center in Chadron, and from the neighborhoods of Lincoln and Omaha, told us their stories and what Malcolm's life means to them, I became convinced that Malcolm X deserved an honored place in the Nebraska Capitol as part of the our state's Hall of Fame. We are all familiar with the facts of Malcolm's early life, of his prison sentence of nearly 10 years for trying to sell a stolen watch. (That lengthy sentence is reminiscent of Jean Val Jean's stolen loaf of bread in "Les Misérables" - but then, Malcolm was black.) We know of his association with the Black Muslim Party and his often incendiary rhetoric. But people, of all age groups, emphasized to us that Malcolm X changed. He became an articulate advocate for the oppressed people in our country at a time, post-World War II, when black Americans were losing even more faith in a country that sent them off to liberate Europe and then denied them a place at the table when they came home with honor. Malcolm X was their voice. This was a man who made a significant difference and had momentous impact on the civil rights movement and the history of the United States of America. Electing Malcolm X to the Nebraska Hall of Fame would give recognition to a Nebraskan who changed his life, and in so doing, stands as a symbol of hope and inspiration to many of our citizens, particularly young people who sometimes need that second chance. Further, honoring him would be an act of public repudiation of racism in Nebraska. It is time for all of us to fully understand, recognize and appreciate that our collective American heritage has emerged from the combination of cultures that were here on this land for centuries, and by dozens of cultures that have emigrated here in the past 400 years. The truth is, it is our nation's ethnic, cultural and racial differences that truly distinguish us as Americans.