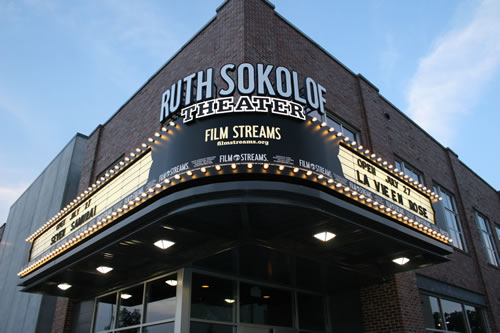 By Casey Logan
A quarter century ago, German filmmaker Werner Herzog traveled to the rain forests of South America to make "Fitzcarraldo," the story of a man who dreams of building an opera house in the middle of the Amazon. Obsessed by this vision and determined to make it reality, the title character (played by the inimitably crazed Klaus Kinksi) employs a local tribe to help him drag a steamboat from one river to another, with no less than a mountain standing in the way between them. Like the mission it chronicles, "Fitzcarraldo" was, to say the least, an ambitious project, made all the more so by its director's insistence on dragging an actual steam ship, during production, from one river to another. Over a mountain. "The studio wanted it to be a plastic miniature boat pulled over a garden hill," Herzog recalled in an interview. "But I said we will pull a real ship over a real mountain, and it will be a grandiose event in a magnificent opera." In February, Herzog's magnificent opera played to audiences in Omaha as part of Film Streams' series celebrating the director and his fascinatingly insane relationship with Kinski (each, at one time, wanted to kill the other). Not long ago, the idea of an independent film center in Omaha might have struck some as about as implausible as assembling a concert hall in a Peruvian jungle. What we've learned over the past couple years (I work as one of four full-time staff members at Film Streams) is that an audience in this area was waiting for film-going options of both a higher quantity and quality. They wanted more independent films, more foreign films, more documentaries, more thought-provoking movies by filmmakers with something to say. It wasn't an unreasonable request. Each year, groundbreaking new films were being made all over the world - movies that could shift not only the way you view the medium but how you see the world. Why shouldn't they play here?
Building on a dream
The idea for Omaha's nonprofit cinema first occurred to Film Streams' founder Rachel Jacobson about eight years ago, in her final semester at the University of Illinois. Courses in documentaries and French cinema led her to think about the countless film opportunities bypassing her hometown each year - not just new independents and foreign films, but also older movies representing the medium at its most artistic and socially significant. Certainly movies were a means of entertainment, but the potential was much more. With films about virtually anything and everything, cinema was also a launching point for just about any discussion imaginable. At the time, the Dundee Theatre possessed the only screen in Omaha where moviegoers might have the chance to see some of the smaller, riskier films playing to audiences elsewhere in the country. In Lincoln, the Mary Riepma Ross Media Arts Center ("the Ross") offered excellent programming, but from Omaha that meant a lengthy commute. Clearly, if Omaha was to truly engage with the world of cinema, the sheer volume of films released each year demanded more than a single, independent-minded screen in the entire metro area. Early on, Rachel realized that to do it the right way, to focus on showing films based on the quality of their content and not having programming hamstrung entirely by box office concerns, meant establishing a mission-based organization devoted to that principle. Determined to make it happen, she moved to New York and sought opportunities in nonprofit arts administration that would serve as a postgraduate education on building and sustaining an organization. At night and on weekends, she took full advantage of the city's art-house cinemas and nonprofit theaters, aware that many of the films she was able to see in New York wouldn't be playing in Omaha. In Film Forum, a longstanding organization with a current location in Greenwich Village, she found a model for what she wanted to bring home: a nonprofit theater with two "distinct but complementary" programs: premieres of American independents and foreign films, and repertory selections from throughout the history of cinema. The opportunity to build a Film Forum for Omaha arose in early 2005, when Saddle Creek Records heads Jason Kulbel and Robb Nansel approached Rachel about bringing her idea into an entertainment development they were planning in downtown Omaha. In the following months, she moved back to Omaha, secured the organization's 501(c)(3) status and launched a capital campaign to equip a two-screen cinema and place Film Streams on sound financial ground heading into its first year of operations.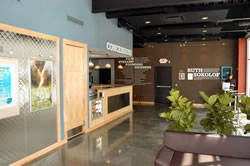 What happened over the next several months was at once humbling and inspiring. Individuals, families, companies and foundations throughout the city identified with the project and Film Streams' mission of enhancing Omaha's cultural landscape through the presentation and discussion of film as an art form. People invested themselves in the project and watched with enthusiasm as it grew into being. Months before the theater was to open, memberships, as well as advance notice of special events, were arriving in strong numbers. (Film Streams' members receive $4 tickets and 20 percent off on concessions). And when the Ruth Sokolof Theater did open in late July 2007, Alexander Payne, an early and avid supporter, helped to unveil Omaha's new nonprofit cinema with a series of his 10 favorite films.
More than movies
After six months as a fully operational cinema, Film Streams has played more than 70 titles, including several regional premieres now up for award consideration, to more than 15,000 attending patrons. In addition to Alexander Payne's grand opening series, we've presented a collection of literary "Adaptations" in partnership with the Omaha Public Library and (Downtown) Omaha Lit Fest, a dual-retrospective of films by directors Preston Sturges and Billy Wilder, a series of movies made throughout the Great Plains, curated by author, public radio host and Omaha native Kurt Andersen. "Herzog & Kinski," devoted to perhaps the greatest love-hate relationship in the history of cinema, marked Film Streams' fifth repertory series. The sixth - a 21-film Hitchcock retrospective - runs Feb. 8 through March 27. Already, films playing at the theater have provided the impetus for a variety of supplemental events, including postshow discussions about the crisis in Sudan's Darfur region ("The Devil Came on Horseback," Aug. 22, 2007), the relationship between literature and film ("Adaptations Series," Sept. 14, 2007), American health and agricultural policy ("King Corn," Nov. 9, 2007), race relations in Omaha ("A Time for Burning," Nov. 27, 2007), and documentary filmmaking ("Billy the Kid," Jan. 12, 2007). Such discussions are central to our goal of fostering an ongoing community dialogue through film, as is an arts education program for high school students that will be taking shape in 2008. A couple of years ago now, early on in the process of our capital campaign, we swiped a quote from Martin Scorsese that spoke to these types of endeavors and to the power of film as an artistic medium and means of communication. It was one of the first things we put on our Web site, and it remains there today: "Now more than ever we need to talk to each other, to listen to each other and understand how we see the world, and cinema is the best medium for doing this."
For more information about the organization or to sign up to receive the cinema's weekly e-newsletter, visit www.filmstreams.org.