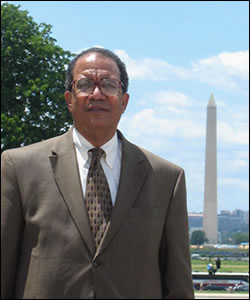 "Sonny's Corner" is a regular column in Prairie Fire, featuring commentary on civil rights and justice issues. Our friend and Omaha colleague, Joseph P. "Sonny" Foster, died suddenly at age 54 in the autumn of 2006. He left an uncompleted agenda, as did many of our civil rights and justice mentors and heroes. We shall attempt to move forward on that unfinished agenda through this column.
The dream of a Beloved Community
By Larry Williams
My mother was born and raised in Memphis, Tenn., and lived in an area called Whitehaven. She attended an all-black school that was about 2.5 miles from her house. The closest school, Whitehaven High, was less than a mile away, but as the names suggests, it was a school for whites and as a black girl she could not attend. Although blacks and whites lived relatively close to each other in this part of Memphis, there were schools, churches, movie theaters, restaurants and all kinds of places throughout the area that were strictly for whites. That was just how things were in this part of the South, but despite this, my mother looks upon her years in this community with generally fond memories. My dad was born and raised in eastern Mississippi, and he used to tell me a lot about the Klan and his family's fear of being lynched. There was little or no interaction between blacks and whites in his early years. He went to a one-room school for blacks for the duration of his early education; however, despite this enforced racial segregation, there was something very strong in the way the community members worked together and looked after each other. For me, growing up in North Omaha in the 1950s was very different from the experiences that my mom and dad had faced. Our neighbors and the kids I played with or went to school with were from many different ethnic backgrounds. It was a unique neighborhood, and my memories are very positive. In those early years, it was a community where everyone knew their neighbors; if you misbehaved as a kid you knew your mom and dad would be informed; jam and jellies were regularly exchanged between neighbors; kids played together, went to school together and just had fun. My first recollection that my skin color made a difference occurred when we took our yearly trip to Memphis to visit our relatives and we stopped at a restaurant to eat. This place was nothing special. It was a bit south of St. Louis as my parents tell me. It was about 1958 or so and I was four years old. I remember walking in with my mom and dad and sitting down at a table. My mom says she put me in a highchair. I am not sure that is correct. I think I was big enough to sit in a "big chair" at that time. In any case, I can remember being told by this lady to leave, since "we don't serve your kind here." I can remember my dad being particularly nice and accommodating to the lady who asked us to leave. We did not raise a fuss; we just left. I don't remember a lot of things from that early period of my life, but that situation, which was almost 50 years ago, has stayed with me, and I have never forgotten. I did not realize then, but it was the beginning of the painful awareness that I was different and that my skin color mattered. I vividly remember watching the 1963 March on Washington with my Dad and was amazed by the crowd of people. I knew who Dr. Martin Luther King Jr. was and that he was doing "good works," as my Dad would say. I remember his speech very well. We received as a gift an album of the famous "I Have A Dream Speech" speech, and I played it over and over again on the record player as a teenager. I remember the year 1968 like no other, and the pictures from that turbulent year in our history are still vivid in my mind almost 40 years later. There is one picture which will forever be ingrained in my mind and that is the photograph of Dr. King laying on the balcony of the Lorraine Hotel in Memphis, Tenn., with a towel on his head while Jesse Jackson, Ralph Abernathy and Andrew Young all pointed toward the place where they believed the gun shots had been fired. I thought to myself what a horrible thing to happen and how much evil there was in this country. My parents, who had met and married in Memphis, were saddened that he was killed and that this happened in a city and an area in the South that generally held so many good memories - but they were not surprised. They knew there were people who did not share their hopes for a better tomorrow. As we once again recognize the King Holiday, on January 21, 2008, I have come to recognize even more so the greatness of his words, the beauty of his thoughts and the blueprint he left us to form a more perfect and just union. "His Dream" is beautiful, but his notion of a "Beloved Community" is even more compelling. Dr. King was an adherent of nonviolent social change and the creation of the "Beloved Community." This phrase was first used by philosopher Josiah Royce, who founded the Fellowship of Reconciliation, but it was put into action by Dr. King. Described in materials from The King Center for Nonviolent Social Change, Dr. King's "Beloved Community is a global vision in which all people can share in the wealth of the earth. In the Beloved Community, poverty, hunger and homelessness will not be tolerated because international standards of human decency will not allow it. Racism and all forms of discrimination, bigotry and prejudice will be replaced by an inclusive spirit of a sisterhood and brotherhood. In the Beloved Community, international disputes will be resolved by peaceful conflict resolution and reconciliation of adversaries, instead of military power. Love and trust will triumph over fear and hatred. Peace and justice will prevail over war and military conflict. All conflicts can be resolved though a commitment to nonviolence. In a nutshell, war is not inevitable." He believed that love one's adversaries had the effect of disarming your enemies and breaking the cycle of revenge and retaliation. In a Beloved Community there is no poverty, no unemployment, no homelessness, no malnutrition, no illiteracy or slums. The evils of racism, prejudice, apartheid, sexism, homophobia, ageism and discrimination against the differently abled have no place. The tragedy of war, militarism and imperialism does not exist. Domestic violence and terrorism have no place. Many of subscribe to the hope that we can become a kinder, gentler and more compassionate nation; however, we seem to consistently fall short of those goals. Our rhetoric never matches our actual accomplishments. My mom and dad always believed in a Beloved Community, even when life brought forth situations that did not show or demonstrate much love and respect. They never gave up hope because they saw glimmers of what could be throughout their entire lives. They instilled those hope and aspirations in me. As we reflect upon the legacy of Dr. Martin Luther King Jr. and his Dream, let us realize what good there is and what progress has been made. Let us envision what we would want our community and nation to be in the future. Let us work daily for the betterment of all humankind. Is it so inconceivable to believe that we can have a society where there is no war, no poverty, no racism, no homelessness, ho homophobia, no ageism or sexism? There have been and there will continue to be shining examples of a Dr. King's Beloved Community. We just need to make it happen everywhere.