Review by Paul L. Hedren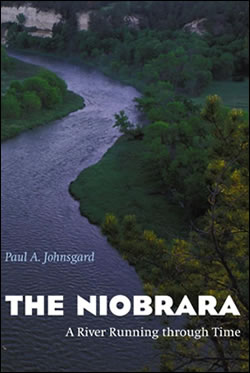 The Niobrara: A River Running Through Time br> Paul A. Johnsgard br> University of Nebraska Press
Nebraska's renowned naturalist, Paul Johnsgard, Foundation Regents Professor Emeritus in the School of Biological Sciences at the University of Nebraska-Lincoln, delivers another ecological
tour de force
in his newest work, an evocative look at one of the state's premier rivers, the Niobrara. Already the state's and nation's foremost scholarly voice on the birdlife of the Great Plains, including Nebraska's beloved cranes, and having also previously explored among his 20 books natural histories of the Platte River, the Sand Hills and prairie dogs, it seemed only a matter of time before he turned his knowledge and love of Nebraska's most unique resources to its longest and perhaps most seductive river. Johnsgard notes at the onset that his abiding interest in the Niobrara is actually many decades old but that he long deferred his writing interest to a friend, Fred Thomas, an outdoors columnist for the
Omaha World-Herald
, who was writing his own book on the Niobrara but left the task unfinished at his death in 1999. Johnsgard had canoed the Niobrara before it became the rage. Spurring his and Thomas's especial interest from the early 1980s onward was the seemingly ceaseless contention shrouding this remarkable river, most particularly the politically charged question of whether to dam it at Norden and deliver its waters to distant irrigators, including some operating beyond its basin, or protect its nationally renowned resources as a Wild and Scenic River. Even as that issue was resolved by federal legislation in 1991, there came equally electric questions over how to manage the newly designated Wild and Scenic River, and for whom, and how to lay a federal boundary along its central corridor. Such matters fill chapters in Johnsgard's book, which for this reviewer harkened back to sometimes pleasant and other times bittersweet memories since the Niobrara's precedent-setting lawsuits occurred during his watch, as did the rewriting of the contested management plan. Ironically, the Niobrara's issues do indeed seem endless. No sooner had the National Park Service finally completed a second, court-ordered management plan for the Scenic River in 2006 when the Niobrara leapt yet again to the front pages of the state's newspapers, this time over water appropriations and whether irrigators using surface waters would or should be allowed to literally pump the river dry. That story continues but was beyond Johnsgard's scope at the time he wrote the book. Ever a naturalist, Johnsgard's look at the Niobrara is a thoughtful telling of matters familiar to many Nebraskans. Indeed the river is Nebraska's longest, originating in the Hat Creek Breaks of eastern Wyoming and coursing 486 river miles from west to east across the northern tier of the state to its confluence with the Missouri River at the town of Niobrara, upstream of Yankton, S.D. Renowned for its fossil resources, the Niobrara Valley has more exposed fossil remains than any other similar basin in America, with reptile and fish fossils dating to the Cretaceous era (65–88 million years ago). The valley is also home to a number of internationally renowned fossil quarries, like those at Agate Fossil Beds National Monument that preserve camels and rhinoceroses dating some 21 million years old, and the extraordinary Norden quarry on private land within the Scenic River boundary where 89 species of fossil mammals are documented. Indeed, no richer paleontological river basin may exist in North America. The Niobrara's modern-day natural condition is equally transcendent, the valley almost an embarrassment of biological riches. Five, some say six, forest and grassland ecological regimes exist in the Niobrara Valley, several at extreme limits of their continental range. So it is that canoers observe stands of paper birch and aspen trees on the river between the Fort Niobrara Refuge and Smith Falls State Park, and ponderosa pines as far east as Holt County. And so too have there evolved delicate biological niche communities in the valley, particularly in the Niobrara's noted springbranch canyons, where, for instance, big-tooth and quaking aspens have hybridized, as have Baltimore and Bullock's orioles. In the Niobrara one sees a mix of biological communities and species existing like nowhere else in America, and Johnsgard details this with passion and verve. Augmented with an array of appendices and tables documenting the river's extraordinary range of species, interesting sites of biological renown, and 20 or 30 other topics of the sort, plus a helpful glossary and a comprehensive bibliography, Johnsgard's
The Niobrara
is encyclopedic in scope, and yet features at its heart a gracious, easy-to-digest narrative exploring and illuminating the natural and cultural wonders of this special river. It should be a must-read for all Nebraskans. Some final words. Paul Johnsgard's manuscript went to press just as the National Park Service was completing its new management plan for the Niobrara National Scenic River. At some 40 public meetings held throughout the state, and most particularly across north-central Nebraska, the public's engagement and review of the new plan was helpful and exhaustive, as it had been from the start of the second planning effort in year 2000. The plan established a new boundary consistent with direction from a federal court and the Wild and Scenic Rivers Act. A new management vision was imagined, too, again consistent with direction from a federal court, the Act, and public input. And once more, the National Park Service expressed its intent to manage the river with an array of partners, most particularly the Niobrara Council, which has, as Johnsgard correctly noted in the book, a unique and complementary charge from the Nebraska Unicameral to work as a positive agent in the Scenic River corridor for the preservation and betterment of the river and all its associated values. The Service-Council partnership now has some years behind it and is proving its vitality and the wisdom of the Unicameral. Many believe that it is a stewardship model well worthy of study and emulation. And, indeed, just as the second planning saga was drawing to a quiet close, the matter of water consumption in the Niobrara Valley blew like a fearsome March blizzard across the valley. With regrettable precedent elsewhere in Nebraska, proving consumers' ability to literally dry up major rivers, despite and almost mindlessly irrespective of the associated ecological travesty, the threat to do just that on the Niobrara showed up on the front page of the Sunday, June 10, 2007,
Omaha World-Herald
(quoting an irrigator expressing his intent to take enough water out of the river "to put those canoers on the rocks"). Questions of entitlement and the future of this grand water course reverberated anew. The full stories of water consumption and the preservation of the Niobrara's water-dependent ecological and recreational values are not yet fully known, but passions for the river were recharged. Just maybe, this time, Nebraskans will not dry up another river. One needs only to read, even briefly, in Paul Johnsgard's graceful and richly rewarding book,
The Niobrara
, to appreciate why this river is worth all the fuss.