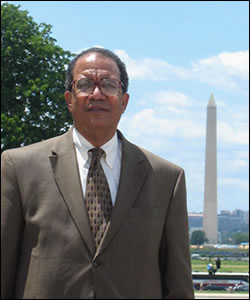 "Sonny's Corner" is a regular column in Prairie Fire, featuring commentary on civil rights and justice issues. Our friend and Omaha colleague, Joseph P. "Sonny" Foster, died suddenly at age 54 in the autumn of 2006. He left an uncompleted agenda, as did many of our civil rights and justice mentors and heroes. We shall attempt to move forward on that unfinished agenda through this column.
By Kara Henner Eastman
The Omaha Lead Site (OLS) Community Advisory Group (CAG) was formed to ensure the community affected by lead issues has an opportunity to ask questions and stay informed about activities within the OLS. The CAG is made up of community members, technical advisors, and various agency and government representatives. The CAG closely follows the EPA Superfund process and meets on a regular basis to discuss progress at the OLS, pertinent research and information from other cities and Superfund sites in the United States dealing with similar issues. As a representative of Sen. Ben Nelson on the CAG, Sonny Foster played a vital role in assuring that the senator's office was aware of all activities within the OLS and provided support on legislative issues affecting the OLS. His mother is a resident of the OLS, so his interest in the site and its issues was personal on many levels. Sonny's outspoken style and ability to get down to business made him an invaluable asset to the CAG. He is sincerely missed by his fellow CAG members.
History of the Omaha Lead Site
In March 1999, in response to requests from concerned citizens and the City of Omaha about the number of children in Omaha with elevated blood lead levels, the Environmental Protection Agency (EPA) began sampling soil for lead contamination at child care facilities and selected residences in the Omaha area. Due to the presence of soil lead contamination, which EPA attributes to past industrial emissions, approximately 14 square miles of residential property in eastern Omaha, known as the Omaha Lead Site (OLS), was added to the National Priorities List (Superfund) in April 2003. The OLS is the largest residential Superfund site in the country. The site is roughly defined as the area east of 45th Street (to the Missouri River) between Ames Avenue and L Street. The EPA has since expanded its Focus Area to include over 65,000 residential properties. In addition to historic industrial lead sources, lead-based paint is a problem in Omaha. Scientists agree that the most common source of lead exposure for children today is lead-based paint in pre-1978 housing and the contaminated dust and soil that it generates. Within the OLS, nearly 96 percent of the housing was built before 1978.
EPA Remedy for the Omaha Lead Site
In December 2004, the EPA released an Interim Record of Decision (IROD) for the Omaha Lead Site to begin addressing lead risks from residential soil. The EPA plans to issue a final Record of Decision for the site in 2008, after additional site data are collected to better characterize site contamination and risk. The IROD includes soil removals at properties in which children with elevated blood lead levels reside and at properties with the most highly contaminated soil. Other elements of the IROD include education, the stabilization of loose and flaking exterior lead-based paint, and a one-time high-efficiency interior cleaning of eligible homes. The paint stabilization element of the remedy is intended to prevent recontamination of the soil from ongoing lead-based paint hazards. The interior cleaning element of the remedy is to address interior dust tracked inside the home from contaminated soil. As many as 5,600 properties are eligible for cleanup during this interim period. To date, the EPA has completed soil removals and replacements at more than 3,000 properties. Paint stabilization work has been completed at a few properties, and no interior cleanings have been conducted.
Comprehensive Approach to Address All Omaha Lead Sources
Although implementation of the IROD is an important element in addressing Omaha's lead concerns, this alone will not be sufficient in addressing Omaha's lead problems. Superfund is limited in authority and, as such, lead risks from lead-based paint, the most significant lead source in the OLS, will remain, even after the EPA has completed its soil removal work. In addition to limitations in addressing interior lead-based paint, the EPA has found public outreach to be problematic in eastern Omaha. At many of the approximately 6,000 properties remaining to be sampled, some owners are leery of giving the EPA permission to test the soil in their yards. In addition, language barriers exist within Latino, Asian and Sudanese families living in the OLS and many residents remain unaware of the risk of lead poisoning and the Superfund process. As the CAG reviewed and commented on the EPA's interim remedy for the Omaha Superfund Site, it became clear that in order to effectively reduce childhood lead poisoning in our community, a comprehensive program would be required. On this front, and with the support of the EPA and the mayor's office, the Omaha Healthy Kids Alliance (OHKA) was formed in 2006 as a nonprofit organization, with a focus on attacking Omaha lead poisoning from all directions. Leadership from every part of Omaha was involved in the creation of OHKA.
Omaha Healthy Kids Alliance
The objective of OHKA is to bring more awareness to the issue of lead poisoning in Omaha and collaborate with existing lead service providers and organizations in order to expand and improve services being provided in Omaha that address lead poisoning. Such organizations include the Douglas County Health Department, the Latino Center of the Midlands, the Omaha Lead Site Community Advisory Group and the Lead Safe Omaha Coalition. To date, OHKA has established a hotline for local citizens to contact for one point of information; assisted with getting a grant for Boys Town to increase blood lead monitoring; coordinated a program for the medical community for lead awareness; attended multiple health fairs; sponsored an Omaha Children's Museum lead exhibit; and responded to the recent recall of lead-containing toys by coordinating toy-testing events. OHKA has also submitted applications on several grants. Moving forward, it is crucial that the EPA and OHKA work together to develop a coordinated effort to address the sources of lead most significant to elevated blood lead levels in Omaha children. Efforts must also be coordinated so that recontamination does not occur from ongoing lead sources that are present but outside of EPA jurisdiction. And, most importantly, the EPA and OHKA need to develop a coordinated effort to provide residents with the education needed to prevent lead poisoning. To implement an effective remedy, the EPA needs OHKA. To address Omaha's multiple lead sources, OHKA needs the EPA. This is what OHKA is all about—providing a comprehensive approach through collaboration, coordination and education to prevent and eliminate childhood lead poisoning in Omaha.