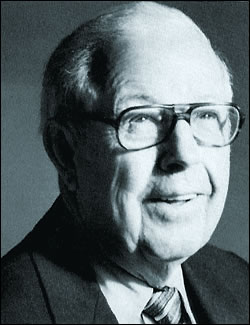 The Polk Progress was a Nebraska treasure that ceased publication in late 1989 after 82 years as a weekly newspaper. From 1955 until its last issue, the editor and publisher was the late Norris Alfred. In its last few months, the Progress had 900 subscribers in 45 states. Alfred was a remarkable Nebraskan with an uncanny eye for connecting the present with the future. Prairie Fire has collaborated with the Alfred family, the University of Nebraska School of Journalism and the Nebraska State Historical Society to locate and archive many of Norris's writings. We are capitalizing on our good fortune to present many of the Norris Alfred writings to our readership. We believe that his observations are as fresh and relevant to today's world as they were when originally written. -W. Don Nelson
By Daniel Cattau
Fort Kearny State Park, Neb.— Thousands of gray-brown sandhill cranes nestle in the shallow expanse of the Platte River, packing into what looks to be a giant sand dune. Scores more are flying in a V-formation over the barren cornfields and winter-bare cottonwood trees. In their return to these ancient nesting grounds, the cranes' bugle-like cackles seem to mock those dumb beasts with cameras and binoculars standing on an old railroad trestle across the Platte. For the most part, the setting sun behind the bird fanciers keeps the color of early spring muted. Then, as if on command, the sun breaks through and showers the scene with a radiant light that turns the huddling cranes into a granite-like block of white, adds a layer of brown cream to the fields and even makes the trees a lustrous dark brown. The river joins the sky in a royal blue frame. Only a rainbow could enhance the scene, and sure enough one soon appears. I'm not big on apparitions but swear Norris Alfred was standing next to me saying: "Damn, this is so beautiful even Dick Cheney couldn't screw it up." It's the kind of scene that always delighted Polk publisher-editor-Linotype-operator Norris. He took advantage of Nebraska's full-circle horizon, colorful and complete, to view the world from his tiny perch in Polk, which he described as having "384 friendly citizens and one grouch." (The 2000 census showed Polk with 322 residents — and no grouches.) Alfred and used the
Progress
to spread his brand of simple yet profound Prairie populism to more than 900 readers in 45 states. "Slower is better" was the
Progress
's masthead motto, which was accompanied by a scholarly looking snail wearing glasses. Few doubted that was Norris's alter ego. Plus, you had to be a snail to squeeze into the paper's cramped offices. The
Progress
, which shut down in 1990 after 82 years, at first glance looked like a typical eight-page tabloid weekly (it was hand-folded to the end). It featured such pictures as Wilma Flick with her large turnip and dutifully noted weddings, deaths, houseguests, church events, school sports and other "loco news." But the features, mostly written by Alfred, set the paper apart: the folksy "Polking Around," the weather, an impassioned editorial and a bird-watching column; Alfred did somewhat abstract pen-and-ink drawings for the paper. The birding column was an opportunity not only to count birds, but, Alfred said, "to point out the necessity for leaving trees, bushes and water in the land as part of the birds' livable environment. It's an extension of what students learn in kindergarten and maybe preschool—sharing." The weather column was unusual because it was never wrong — he only reported on what had happened — but it could make a political point: "This week's weather had Siberian temperature readings in the deep-freeze range accompanied by a secretive military mission of the space shuttle" (Feb. 7, 1985). Norris, who died in 1995, escapes easy definition, but the best place to start is Polk. The town itself was a bit dull. As Norris noted in his "Polking Around" column, an out-of-town visitor stopped at the local co-op to fill up with gas and asked the station manager: "What do you do around here for excitement?" The manager replied: "Around here we don't get excited." Verlyn Klinkenborg of the
New York Times
described country life as "living as close to the wildness as we can…. What makes it easier is that so many wild creatures don't mind living near us — so near that we hardly think of them as wild anymore. The grace of wildness changes somehow when it becomes familiar, when you know it as well as we know the wild turkeys and the downy woodpeckers." Norris knew well the "grace of wildness." After his usual Sunday morning birding trip along the Big Blue River, Norris spotted an array of tree sparrows, dark-eyed juncos and black-capped chickadees. But this January outing offered another surprise: a coyote moving gracefully through the barren fields. He turned the chance meeting into a prose poem about nature: "The lithe movements of the animal put to shame the lumbering clumsiness of tame man and dog. The sight gave me more understanding for the preservation of the wilderness than reading about it, or listening to talks promoting it. We need the wilderness if we are to understand ourselves. We need coyote comprehension." No doubt Norris was a wily editor, but he also was an accomplished birder, water colorist, itinerant printer, Pulitzer nominee, and the last member of Polk's Bachelors' Club, which truly did exist — contrary to many readers' speculations. As a writer of editorials, Norris found his true voice and it accounted for his large following that included my Uncle Hine (Henry) Clausen in nearby Columbus to political pundits in Washington. Writing editorials gave Norris his way of dealing with the existential angst posed by the Progress Swedish Philosopher: You're put on earth to do something. She added: "If you don't do anything, you get out of practice." Norris wasn't exactly in tune with the folks in Polk, whom he once described as "99.44 percent stout conservative Republican." He liked to rail against government secrecy, big businesses, big corporations that destroy family farms, chemicals that deplete precious topsoil, billion-dollar deals that no regular person could understand. Polk residents tolerated Norris's liberal spirit as they debated politics over a beer or coffee at the Sportsman's Bar, and they fueled his anger, especially during President Reagan's "reign of error": "I only need recall my latest political argument and the words tumble out of the typewriter. I can toss in 'regressive, progressive, aggressive'; mix it with 'fusion diffusion, confusion'; add 'military, monetary, cemetery'; stir in a sprinkling of 'damn and dumb,' and the result is an editorial printed to tasty, crusty contention on the 100-year-old big cylinder Babcock newspaper press. "Editorials can be written statistically, satirically, scientifically, sarcastically. Sometimes the subject matter can be dissected and the parts pondered separately. Opportunities have increased with the election of my arch-enemies, the Republicans, to the presidency." Reagan's Interior Secretary James Watt was to Norris what Shiites are to Sunnis, and Yankees are to Red Sox fans. Norris hated him for his bumbling and dangerous environmental policies. "I had to practice holding my nose while dissecting him," Norris once told me. In a Dec. 27, 1984 editorial on "Integrity" — from a hefty file on Norris kept throughout the years — he wrote: "We grew up with the idea that money was adequate reward for doing. After growing up, which took a long time, we became aware of other values. A priceless one is integrity. We opted for integrity — made it a conscious decision more than once — rather than money after settling into the weekly newspaper routine…. Now we write what we believe, what we think, and let it all hang out like a Monday morning wash on a clothes line — threadbare inner thoughts as visible as dressy outerwear words." The story of how Norris came to own the
Progress
is worth noting if only for the record: He grew up in Polk, graduating from high school in the early 1930s. He worked several years as a printer, then went to Doane College in Crete and graduated with a degree in chemistry. He tried his hand at being an artist, worked around the country as a printer, but in the early 1950s a "disastrous" series of circumstances led him back to Polk. His aging parents needed help running their general store, and in 1955 he bought the
Progress
with a small loan. During the Vietnam war, Norris started to find his editorial voice — he stated that fighting the Vietnamese was pointless because we really wanted to fight the Russians — and by word of mouth he became a modest national cult figure among journalists, academics and left-leaning folks. Upon the recommendation of Carl Keith, my mentor and close friend at the
Omaha World-Herald
, I visited Norris in Polk in the late 1970s. He hated the right-wing politics of the
World-Herald
but found in me a kindred spirit — slightly out of whack with Nebraska politics. We soon found other connections. While at Doane, Norris became friends with two highly regarded professors who later taught at my alma mater, Colgate University in Hamilton, N.Y. M. Holmes Hartshorne was a scholar of the Danish theologian Soren Kierkegaard and a noted theologian himself — an existentialist, much like Norris. Jonathan Kistler was a legendary English professor who taught Shakespeare and a course on basically two books: Leo Tolstoy's
War and Peace
and Thomas Mann's
The Magic Mountain
. I admired both men but knew Kistler better. Their connection to Norris Alfred speaks to his depth of thinking, and his wisdom. (The Alfred family was large — nine children in all — and seemed especially bookish. His brother Ted, who died in April, was the longtime dean of the management school at Case Western Reserve University in Cleveland and a Ph.D. from the Massachusetts Institute of Technology.) Kistler spoke at my 1972 graduation, and years later I could see Norris agreeing with him. Kistler said he had heard 45 commencement addresses and could remember nary a one, though he did recall a two-paragraph summary of such an address in the
New York Times
. The main point: Liberal arts colleges gear their graduates for success, but the curriculum would "be better to be designed for the possibility, nay the probability, of failure." He spoke of the need to accept failure when it comes, embrace the ordinary and accept your limitations. "I favor the vision of the artist…. It can make us see the extraordinary quality of what we normally think of as the ordinariness of life, the life we are living, day to day: eating and drinking and talking …. It is the kind of life that in the end may break your heart, but it will fill your heart before it breaks it." The vision of the artist—that's Norris, too. When I was living in Manhattan — New York, not Kansas — in the 1980s, there was an annual event put on by the University of Nebraska alumni club called the "Taste of Nebraska." Norris had this running gag about Runzas because nobody on either coast could comprehend that a piece of baked dough filled with minced hamburger meat, onions, cabbage and sometimes even cheese could be anything but repulsive. Norris asked if I could cover the event, and he wanted me to get at the essence of the Runza. After talking to numerous New Yorkers, I asked the wife of a Nebraska friend who was eating a Runza: "Does it taste like filet mignon?" She replied: "No, but it has more personality." Norris loved the story and the quote, making me feel quite proud … until I received a copy of the newspaper. There was my story, all right, with the dateline, but my byline read:
By Daniel Cattau Progress Foreign Correspondent in New York City
Smarter and funnier than the rest of us — that's Norris, too. There's no need to speculate on where Norris might have stood on the Iraq war, Junior George Bush, Dick Cheney, Rupert Murdoch, and the current Wall Street crisis caused by easy housing loans. But it is the issue of global warming where Norris would have been the most eloquent. His words of more than 20 years ago sum up where we are today, with the crisis only deepening: "One spring day I was in the Polk Cemetery watching a blackpoll warbler as it searched intently, purposefully, a budding tree branch three feet above my head. The little bird was oblivious of my presence as it moved constantly and pecked at edible tidbits of leaf-bursting twigs. To that diligent devourer of nature's crumbs I was another tombstone, albeit an enthralled one. I remained motionless as a grave marker while observing that bit of the Grand Design go about its business of living…. "Every spring the sight of migrating birds is reassuring. Just as surging green growth renews the spirit, so do spring warblers, migrating north. A gnawing uneasiness that human exploitation may be upsetting the planet's rhythms subsides with the spring migration…. "There is a Grand Design. A functioning, throbbing whole, of which the blackpoll warbler is a part. That bird flew north and found food in a Polk cemetery tree. Accidental? Not likely. That warbler demonstrated repetitious purpose in its hunger and unawareness of my presence. "The repetition has been described as machine-like, but life is more than mechanical motion honed to ten-thousands of an inch. Earth supports life that has hopes, love and capacity to cope with the unexpected. Machines are monotonous, predictable and wear out. With care and conservation the Earth won't."
This article used previously published articles by the author, including pieces in the Los Angeles Times and Washington Journalism Review.