The best-case Nebraska economy of the future depends on highly productive individuals, not corporate headquarters or a smokestack industry
By Sally Herrin
and W. Don Nelson
Joe Hill-early 20th century labor organizer and martyr-said it best: Don't mourn-organize.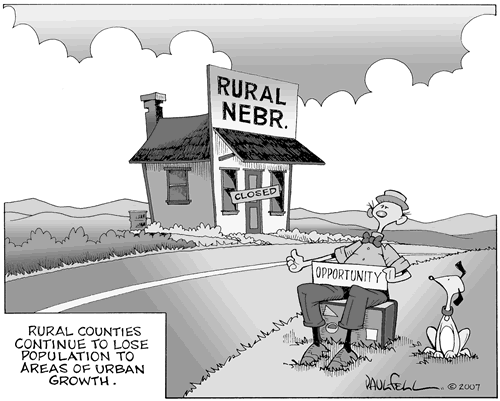 By now, everyone knows that the population of most of rural America has declined precipitously over the past few decades, almost entirely due to declining farm income. Though Nebraska is arguably one of the most agricultural states in the nation, and though agriculture is still the largest industry in the state, and though corn is temporarily selling at the farm gate for a profit, nothing we can see coming down the track in the next farm bill or round of trade talks is likely to permanently secure income to mountains or plains farm and ranch families or to reverse this trend. One Nebraska family, however, has found a way to buck this trend, and we believe their story is instructive and worth noting. According to Pete Letheby, in a January 26, 2007, story in the
Grand Island Independent
, two generations of the Switzer family of rural Burwell launched a canoeing business, Calamus Outfitters, in 2002. Revenue from this business supplements their 12,000-acre, Loup County cattle operation. According to the U.S.D.A., the average U.S. farming family has relied on off-farm activity for about 90% of its income for a decade, and the average age of U.S. ag producers has crept into the late 50s over the same period. For the Switzer family, the success of their outfitting business means that 30-something Adam Switzer and his wife Teresa can build a life in Adam's home community, near Adam's parents Bruce and Sue, unlike so many Nebraska natives who move to other states largely for employment opportunity. The Switzers might well serve as the poster family for a new economic development model detailed in an August 2006 report prepared by economist Ernie Niemi, titled "Natural-Resource Amenities and Nebraska's Economy: Current Connections, Challenges, and Possibilities." Niemi posits that the best possible economic future for Nebraska will neither depend solely on agriculture production and processing nor involve hemorrhaging tax giveaways to big corporate employers. According to the report, given the revolution in distance-neutral information technology, the best-case Nebraska economy of the future will not depend on corporate headquarters much less smokestack industry, but rather on the domestic decisions of highly productive individuals, whose working parameters will allow them to live where they like. According to Niemi's report, highly productive individuals select their home communities and vacation destinations based on amenities, including weather and access to cultural, scenic and recreational attractions. Niemi's research shows that on a per-acre basis, recreational and tourism-driven land uses may generate much greater economic activity than ag production; in some cases, ag production and recreational development can go hand in hand, as when wetlands and pasture lands include wildlife habitat for hunting and bird-watching. The Switzers have now joined five other Central Nebraska entrepreneurs and the Audubon Society's Rowe Sanctuary this year in a new project, Backroads Nebraska Tours (BNT). According to Letheby's article, BNT offers travel packages that include a wide variety of only-in-Nebraska experiences, from bird-watching, hiking, hunting and fishing through wine-tasting, tubing, stargazing and bonfires, to "real-life ranch exper?i?ences," fine dining and history lessons, all to tempt travelers to get off I-80 and "into the backroads country of stunning, landscape-rich Nebraska." We couldn't agree more, and we're not alone. In mid-April, both the
Lincoln Journal Star
and the
Omaha World-Herald
signed off on the wisdom of fighting rural population decline by attracting young professionals in the exploding population of independent contractors, which a Montana economist-right in step with the Niemi report-calls "footloose." Take the Switzer family times 1,000 and what you get is more or less the conclusion of the Niemi report. (The complete report is available at
www.econw.com/reports/nebraska-natural-resources-economy_eco northwest.pdf
) We recommend the report not just because it gives credibility to the enormous benefits to Nebraska of a robust outdoors economy, but also because the report in no way can be interpreted as maligning or attacking Nebraska ag producers. On the contrary, the report offers the amenities-driven model as one of the few viable options for saving Nebraska's remaining family farms. An economy that relies too exclusively on agriculture is an economy perched precariously on a single point, as on the top of a pyramid. So much can happen in an economy that relies too heavily on mono-cropping or single industries, whether feed grains or ethanol. Such economies are inherently unstable, with 50 ways to fall to pieces-through weather events and climate change, water shortage, unfavorable trade agreements, technological changes, captive supply and market concentration, pests and disease, foreign hostilities and more. The states of the mountains and Great Plains need an economy like a good kitchen table with four sturdy legs, an economy that is multilayered and that protects our greatest resources-our natural resources including water, air and landscape-as opposed to consuming or degrading them. "Nice places" have actual dollar value, as the Niemi report details, and conservation-of habitat, of wetlands, of native prairie, of clean water and clear air-turns out to be a sound business decision. It happens that bird-watching is the fastest growing category in outdoors recreation in the U.S. It also happens that bird-watchers are more likely to part with cash than other outdoors enthusiasts. The amenities-driven economic model is wildly successful 35-40 days a year in the Big Bend area of the Platte River in the form of the crane-migration industry. The Niemi report holds hope that this model can be expanded to benefit Nebraska statewide and year round. Nebraska also needs to recapture the high ground on pheasant hunting through recreating nesting and brood-rearing habitat, which moved to South Dakota as a direct result of statewide differences in cropping patterns. We are already on firm footing among prairie grouse hunters, who recognize the Sandhills as one of their quarry's last, best strongholds. Nebraska can also capitalize on our wild turkeys, a species which has more than rebounded over the past quarter century-wild turkeys don't just survive in Nebraska, they prevail. Our point? Historically, production agriculture was able to support much of the mountain-plains economy. However, during the dustbowl-and-depression era, the crises in ranch and farm income led governments to create programs that were designed to give agriculture producers the tools to make their profit in the marketplace and cost taxpayers little or nothing. More recent farm bills have provided some replacement income to keep ag producers going in times of lowest prices. However, the globalization of production agriculture-in particular the overwhelming success of our 50-year effort to export U.S. production ag technology, genetics and know-how-makes the past very unlikely to be prologue to any foreseeable future. We do not believe Nebraska or other mountains and plains states facing rural depopulation can afford to waste precious time mourning, while our best and brightest resources-the wonderful young folks we raise here-leave to become the moral and economic backbone of other places. We can find ways to focus on the opportunities of the new economy over this next, critical decade, according to economist Larry Swanson, quoted in an unsigned editorial in the
Omaha World-Herald
, April 13, 2007. To a rising generation of highly mobile professionals and entrepreneurs looking for the good life, Nebraska offers good value: good towns, good housing, good schools, good environment, good recreation. What's needed now, Swanson indicated, and we agree, is focus, intelligence and hope. We add that for our money, the focus should be largely on the opportunity within our fabulous-but sleeping-outdoor economy. Related:
Read the Executive Summary from "Natural-Resource Amenities and Nebraska's Economy: Current Connections, Challenges, and Possibilities"