By Katie Blesner
Midwesterners have a reputation for self-sufficiency and independence. However, in the past decade Midwestern individuals, groups and communities have been joining together to make the Heartland a more appealing place to live, work and play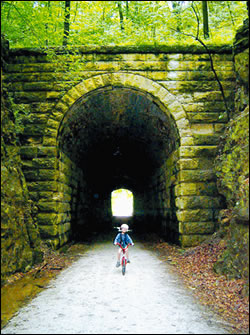 One of the most effective ways to attract young people and retirees, and hold onto those already living in a community, is to develop trails for walking, running and bicycling. Communities large and small with longer, connecting trails are also attracting tourists who want to bike or walk from one town to another. Individuals and groups looking for ways to spend time outdoors, to enjoy physical activity and experience wild and rural environments have been putting their efforts into developing stretches of hiking/biking and equestrian trails. Cities have also been developing trails to provide a recreational activity as well as a safe off-street route to work and school. Until recently, bits and pieces of trail have been built independently of each other. Cities like the Omaha/Council Bluffs metropolitan areas have planned and coordinated trail development, starting with the Back To The River Trails and Pedestrian River Crossings Plan in 1998. Now regional and national non-motorized trail networks are being created.
Building on Success and Dreams
In 2002, the Quad States' Trails project was launched to encourage local trail organizers in Kansas, Nebraska, Iowa and Missouri to making connections between trails. "It's not like a secret that we want to connect," says Andrea Chase, trails coordinator for the Iowa Natural Heritage Foundation. "It makes sense to dissolve political boundaries when it comes to trails. We should look at resource connections and community connections rather than containing them on a state-by-state basis." It's the importance of connections that prompted the Nebraska Trails Foundation to sponsor and help fund the preliminary Quad States' Trails (QST) project. "This project is a concept for making connections between trails in these four states-to figure out 'How do we make those connections?'" says Ross Greathouse of Greathouse Associates, Ltd., QST co-project manager. Karen Anderson, with the National Park Service Rivers and Trails Program, said that when she and Ross were working on the Homestead Corridor trail project (from Lincoln, Neb. to Marysville, Kan.), they started talking about getting some sort of a loop trail, and the QST concept evolved from there. The concept builds upon the numerous trails developed over the past 10 to 15 years and others that are currently being built. It will link St. Louis, Kansas City, St. Joseph, Council Bluffs, Omaha, Lincoln, Manhattan, Topeka and Lawrence in a 700-mile loop. Two significant lengths of trails that will be encompassed are the Wabash Trace Nature Trail in Iowa and the Katy Trail in Missouri. There are lots of communities at various stages of the trail-building process-some talking, some planning, some building, some with completed trails. However, they don't necessarily know what their neighboring communities are doing, whether they're five or 50 miles away, says John Royster of Big Muddy Workshop, Inc. and QST co-project manager. The Wabash Trace is the granddaddy of the system, founded in 1988. The 63-mile crushed limestone trail on a converted railroad right-of-way runs through Iowa's scenic southwest corner. The Katy Trail spans 225 miles, from St. Charles to Clinton, Miss., closely following the Missouri River. Several hundred miles of existing urban trails in St. Louis and St. Joseph, Miss.; Kansas City metro area; Lincoln, Neb.; the Kansas City metro area; and Omaha/ Council Bluffs metro areas are also included. About 250 miles of trail still need to be planned and built, linking trails within cities and between small towns in all four states. Greathouse and Royster met with trail organizers from the four states in 2003 to evaluate options for linking trails, then developed maps and presentation materials for trail organizers to use in spreading the concept of connecting trails. Royster, co-project manager of the QST project, says, "What Ross and I have tried to do since 2003 is to create excitement about the concept of an interconnected network of essential local trails." When Greathouse and Royster met with organizers in 2006 and 2007, significant progress had been made in all states in trail development. "In 2003, there was a large sense of frustration about efforts to stymie trail development in Kansas. When we returned in January 2007, we were amazed at the progress that had been made and the level of excitement about trail development in northeastern Kansas," said Royster. Organizers in the St. Joseph, Miss., and the Leavenworth County, Kan., areas were so enthusiastic that after their meeting with Greathouse and Royster, they decided to start a local Quad States' Trails chapter. "My purpose is to keep up the momentum," says Wes Revels, president of the St. Joe QST chapter. The chapter is uniting the concepts of trails and the development and preservation of greenways, especially along the Missouri River. "We have a great opportunity to develop a greenway along the Missouri River because there are already in place several conservation and refuge areas along the river. Revels, an instructor with the Red Cross in St. Joseph, said there is excitement on both sides of the river for the many benefits provided by an area trail system linked to a regional system.
Each Community Has a Different Twist
Trail advocates see many benefits to development of trails and the connections strategy proposed in the QST project. The primary benefits cited are health, a safe method of transportation, and economic development. "Each county and each city will have a different twist to the same themes," says Andy Clements, assistant director of Public Works and Transportation, St. Joseph, Miss. "In Doniphan County [Kansas], across the Missouri River from St. Joe, they're very focused on economic development. That's the emphasis there. In other communities there's a different angle to getting trails built, like community safety."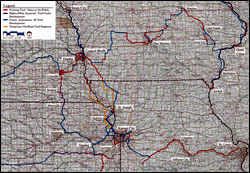 Ed Lincoln, a Wichita trail advocate, gave an example of two towns in Kansas that overcame the aversion that many Kansans have to trails when safety became a concern. "People wanted a safe way to get locals, especially school children who need a way to walk back and forth to school, to go from Cottonwood Falls to Strong City. The Chase County Community Connection Trail runs along Highway 177 and crosses the river across an old railroad bridge. The communities were in favor and the county farm bureau was in favor because it provided a safe walk from place to place." In Marysville, Kan., trail advocates are promoting trail development as a way to compete with other towns for new residents and to provide a reason for citizens to stay. They are assuming responsibility for the section of Homestead Trail in Kansas and exploring a link from Marysville to the Homestead. Steve O'Neal, a Union Pacific railroad engineer and city councilman says, "There are a lot of small communities that don't have what we have, but it is very competitive. UP has been a boon to the community; we need to figure out how we can get the commuters from Lincoln and Beatrice that work for UP to be drawn to move to Marysville." O'Neal said that research and the experience of other communities points to providing trails as an effective way to attract and keep residents. Attracting young people and retirees was also cited as a reason for promoting trails by Bob Cole with Pottawatomie County Economic Development. "In a magazine survey of emerging graduates and young professionals, the survey found that they seek outdoor activities where they chose to live and work, and trails rank the highest." Cole also mentioned a survey by AARP showing that there are about 47 million people over age 60 living in the United States and they control trillions of dollars. "They're the richest demographic cohort in the country, and they rank the opportunity for outdoor trails higher than golf and tennis combined" when choosing a place to retire. Cole provides a regional perspective on the benefits of trail development. His interest is not only in trail development for his county but also for the opportunity to link with neighboring Manhattan Kan., home of Kansas State University; Junction City; and Fort Riley, home of the Army First Division. Quality of life is also very important to their residents who are in the military, said Cole. "Military guys are very into quality of life-it is all-important to retention." It is also important to military retirees who have seen many cities, and "we want them to come back to this area." Outdoor recreation improves the quality of life and "hiking, biking and wildlife viewing are at the top," he said. O'Neal and Cole are advocating for construction of the first segments of trail in their communities. Those who are adding segments to already extensive trail systems mention additional benefits of trails. Larry Foster, administrator for the City of Omaha Department of Parks, Recreation and Public Property, says there's been a gradual change in philosophy of people using area trails. "In the first 10 years trails were a method for exercise and short-term recreation. Gradually, as people have matured in use, we see they are looking for more than short-term jaunts and after-work or weekend exercise. A lot of riders are looking for more of a road trip on a trail. The Quad States' Trails gives our residents a chance to use their bikes for more than an afternoon jaunt." Ron Hopp, director of Parks, Recreation and Public Property for Council Bluffs, describes its trail system policy as emphasizing an alternative transportation mode as well as recreational use. Council Bluffs has almost completed their loop around the city and is working on connections that crisscross the city to provide neighborhood access to trails. Hopp said that Omaha and Council Bluffs are also "anticipating the whole new avenue of opportunities and connections that will arise" with completion of the Missouri River Pedestrian Bridge, which will link the two cities. "I think it will be heralded as a hallmark of trails," said Foster. Both Foster and Hopp feel this linkage will accelerate trail use by tourists and commuters. Lincoln, Neb., is also seeing trails increasingly being used for commuting to work and school. Terry Genrich, natural resources and greenways manager for Lincoln Parks & Recreation Department, said that since the city made trails part of the city's transportation effort a year and a half ago, trail use has grown. With the price of gas and emphasis on health, use is expected to grow even more. The city has been working with the medical community to make people aware that trails are nearby. "Our policy is to develop a trail within a half-mile of every residence in Lincoln," said Genrich. Rural economic development is another significant benefit mentioned by trail supporters. The Katy Trail has generated a rural economic renaissance, according to Brent Hugh, president of the Missouri Bicycle Federation. "In Rocheport they have built a whole downtown CBD [Central Business District] around the Katy Trail; it's not on the Main Street, but along the Katy Trail." He says, "Rural communities rightly want to preserve their rural way of life. Trails can build up the economy in a low-impact way. It's not like inviting the cyanide smelter into town." He believes that trails will help to develop rural economies in a way that is compatible with the lifestyle rural areas want to retain. Southwest Iowa communities along the Wabash Trace Nature Trail have also benefited economically from the growing numbers of bicyclists using the trail. One activity that is especially popular is the informal Thursday night "Taco Ride" to Mineola, Iowa. "There's a little restaurant in Mineola; it's doubled or tripled its staff because of the Taco Ride and other bicycling related events. They serve 400-600 people on Thursday nights and more on special events and rides," says Greg Losh, a Wabash Trace Trail rider and board member.
Connections Are Key
"Connectivity is one of the big watchwords where talk about bikes or trails is concerned," says Hugh. "The Quad States' Trails is kind of a vision to safely travel around the countryside and enjoy wildlife and the sights. This whole idea of bicycle tourism is a new vision. What people are doing and would like to do more is fly into St. Louis with their bike and ride the trail for a week." He says that people from all around the world are attracted to touring on bikes. Closer to home, trails also offer an inexpensive family vacation. Chase feels that more and more communities see trails as an economic development tool that also helps provide their citizens with health-improving facilities. "Trails are a catalyst on all different levels-health, recreation and quality of life." The Quad States' Trails concept is being developed by Midwesterners, so it retains its independent spirit and neighborly approach. All of the trail sections are being developed by local groups; each trail segment retains its unique local name. There will not be a trail named The Quad States' Trail but rather a linked network of trails joining rural and urban communities in the four states. Advocates in one community are talking with the next community and with organizers the next state over-pulling together to help each other out. Linking trail advocates and trail builders is essential to the linking of trails. The QST project has established a listserv to encourage dialogue among trail advocates. "Anyone is welcome to join and post a question, ask for suggestions and share stories of success," says Royster. People have started to post their local trail newsletters and meeting dates to let people in the Heartland know what's going on. To join the listserv, send an e-mail to John Hall of Big Muddy Workshop, Inc. at jhall[at]bigmuddyworkshop[dot]com. Royster says he's been inspired meeting trail advocates from different communities. "Collectively, they're an intelligent and eclectic group of hardworking dreamers and dedicated visionaries." Royster said that after meeting these supporters, he believes the entire QST system is not a question of
if
but only a matter of when it will be done. "We're crazy, of course," says Frank Meyer with the Kanza Rail-Trails Conservancy. "It's the whole idea of giving folks a chance to get into what's 'real country'; the pure natural beauty of country. Connecting all of these communities is something we are trying to do."
Photos courtesy of Missouri Bicycle Federation; Greathouse Associates and Big Muddy Workshops, Inc.; and the City of Omaha.
Related:
Quad States' Trails - Trail development challenges and solutions (Part II of this article)