Review by Margie Rine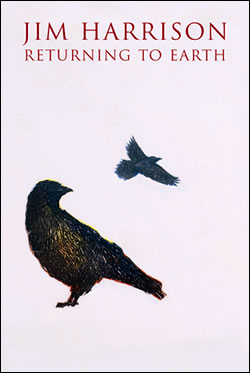 Returning to Earth br> Jim Harrison br> Grove Press
I first encountered the work of Jim Harrison about 20 years ago. The novel was
Dalva
(1988), and I must have personally sold 30 or 40 copies of that book. I don't remember all the specifics of the plot, but I do recall feelings of mild envy that a man could capture the essence of a female character so well. I was also enamored by the novel's setting in the sandhills of Nebraska, having driven the very same roads taken by the protagonist. I do not know where my copy of the book is. In the early 1990s I loaned it to a dinner guest and it went missing for three or four years until it was returned to me via U.S. Post from Wisconsin. The sheepish lender had discovered it buried under some pile and, being the guilt-ridden sort, was extremely apologetic. The book's return was all for naught. While I was preparing to write this review of Harrison's latest novel, my copy of
Dalva
was again not to be found. Spirited away by another dinner guest, I presume. Also missing from my not-quite-complete collection of Harrison's work was
The Woman Lit by Fireflies
, a breathtaking novella about a woman who leaves her abusive husband during an automobile trip and disappears into a cornfield, as well as my copy of
True North
(2004), which likely has vanished into a field of happy book borrowers. Periodically I resort to self-flagellation about missing books and attempt to institute a compulsory checkout system for my personal library. But I just don't have a librarian's instincts. Still, I keep buying Harrison's books and talking about them with people I meet in airports or among my small coterie of friends that read fiction. Harrison's winning combination of humor and pathos is something I can rely on, and once again this is the case with his latest book,
Returning to Earth
. Set in Michigan's Upper Peninsula, the reader also gets a history lesson describing the many immigrants-Finns, Swedes, Norwegians, Germans-that came to the region to work the mines in 12-hour shifts, six days a week. More life is behind rather than in front of me, so I read
Returning to Earth
with much different eyes than I did his works of 20-plus years ago. Perhaps like Harrison, I am now preoccupied with issues of death, the role of family, and the vapid reality known as American culture. The theme of the novel breaks no new ground-a family coping with the pending death of the beloved husband and father. What is deliciously delightful about this novel is the wealth of unique characters that Harrison creates so effortlessly, like an artesian well that bubbles onto the page. Donald, 45 and dying prematurely from Lou Gehrig's disease, is part Anishinabe (Chippewa) and part Finn who connects with his Indian heritage through his father's cousin Flower during an extended visit as a 10-year-old. "Anyway, Flower shook my brain like one of her many rattles hanging from the rafters of her tarpaper shack." The narrative is disclosed in four parts, each told in succession through the voices of Donald, K, David and Cynthia, all of whom we first met in True North. Cynthia and Donald were married as teenagers and Donald is now attempting to dictate his family stories to Cynthia for the benefit of their two children. Through the rich characters of Cynthia, David and K, Harrison takes more than a few jabs at contemporary American life. "…David advised that as much as possible I should avoid the junk of our culture. He said it was hard enough to live with what we know without drowning in this junk. … In a rather radical economic seminar at the university we collectively decide that ninety-nine percent of the products of this culture were junk. …this included books, movies, television, art, new food products, political speech. … The culture pretends it admires solitude (but not too much solitude, for you might become nonproductive). … I no longer wanted to be part of a system whose actual intent was to produce reliable employees." On the subject of death he poignantly observes, "Everyone is 'one.' An accident report might say that nine died, four of them in their teens, but each death is 'one. Each of six million Jews is 'one.' With death it is a series of 'ones'." A reader can't help but extrapolate this to victims in Iraq, unsuspecting students at Virginia Tech University, or one's own dying parent. Harrison's triumph in this book, despite its somber theme, is his ability to see the humor in the tragic and joy in the ordinary. In the hands of a less capable writer the story could go desperately maudlin and overly sentimental. Relentlessly tipping close to the edge of the absurd, Harrison leans back just in time to allow the reader to see the simple truths that frequently escape the unobservant. When Donald realizes he is terminally ill he drives over to the home of a childhood bully with the intention of murdering him. The bully-who kicked a dog when they were children-is himself in dire shape from diabetes complicated by alcoholism. When Donald informs him of his intentions, his former nemesis responds by asking, "Why bother?" After some conversation Donald gives him a six-pack of beer and offers to go get him groceries. Just like when I read
Dalva
so many years ago, I am duly impressed with Harrison's characterization of Cynthia. He again successfully creates a woman character who knows who she is and, at 44, is prepared to live an entirely new life. Not sentimental, just strong. In his author's note accompanying
The Summer He Didn't Die
(2005), Harrison writes, "As a novelist and poet I've often thought that I carry a window in order to look at what I wish, that my calling is to become this window and offer a possibly unique and aesthetically pleasing view no matter how dire the human landscape." Despite the inevitability of death, the human landscape created by Harrison retains more than a few charms. And, just as sure as the fact that we do all ultimately return to the earth, I will continue to look to Harrison's work to make the eventual return a little less daunting and a lot more enjoyable.